World Language Week
This week students had the opportunity to participate in world language week. The purpose of this enriching week is to promote the excitement for learning new languages. "Learning a language is so much more than learning words and grammar. Language and culture are intertwined, so along with language, you are also learning about customs and behavior; food, art, geography, music" french teacher Kendall Perkins explains.
One event of World Language week was the daily trilingual trivia questions. Questions were read in the 3 languages offered at YHS ( French, German, and Spanish) over the announcements. Each day one correct answer was chosen to win a prize. There was also a Pride Kahoot challenge in which each pride had the chance to compete for the top score in a trivia challenge. Ms. Thompson's Pride won a pizza party with some fun international snacks.
A poster contest was held for students to create a piece of art that expressed a certain language-related theme. This year's theme was "Celebrate Humanity through Languages." Of the many wonderful entries chosen by the YHS Art department, the winner was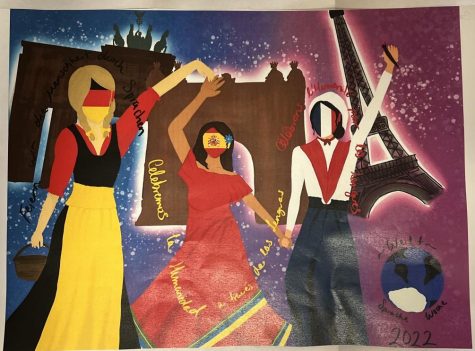 Ella Moon. She won a gift certificate to Vida Cantina for her amazing artwork! 
In addition to all of those fun activities, there were other opportunities offered during PIE time. "We want to celebrate the amazing diversity in our world and encourage students to value perspectives that are different from their own," explains Madame Perkins. An international film festival was held in the auditorium. Each language had a different film and students could vote for their favorites. Señora Caraballo also taught cultural dances from Spanish roots in the library. 
The week came to a close with an "international" handball tournament. Throughout the 3 language departments students in their respective languages chose to sign up for either the French, German or Spanish team. The games were officiated by Social Studies teacher, Bryan Thompson. "There was some pretty intense competition this year, but the French team proved to be victorious. It was a great afternoon!" says Perkins. "The week was a lot of fun and the World Language Department teachers would like to thank all students and faculty for their participation and support!"
Fun Fact according to Madame Perkins: National Foreign Language Week was founded in 1957 as a way for schools across the country to promote the importance of studying a second language. It is usually celebrated in the first week of March. YHS's celebration was inspired by the National FLW but we have made it our own (including a slightly different name) and we don't always celebrate in the same week.