Endorsing Local Candidates at a High Energy Protest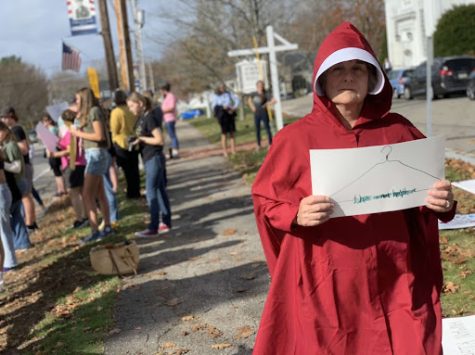 Since most of the Young Women's Leadership members aren't eligible to vote, the group decided to approach the upcoming election in a different way. They focused on endorsing local candidates and promoting matters that they feel strongly about. The protection of reproductive rights was one of the main topics of protest. 
On November 6th, the Sunday before the Tuesday election, hundreds of both local and out-of-state citizens lined the streets of York. They reached from the town hall to the very ends of York Village. While there were many different people there–a mix of state representatives, older women, and an abundance of teenagers who weren't eligible to vote–they stood together, shoulder to shoulder, united for a single cause. 
The focus of this protest was showing support towards local candidates who backed protecting reproductive rights and were willing to fight for them at the state level. Signs like, "Vote Mills, she'll keep our rights!" and "Lepage will put our rights in a cage," were held as cars slowly drove by. While Maine is a state that allows abortions, this protection has the potential to change. The Young Women's Leadership club decided to tackle this uncertainty with a protest, drawing attention to local candidates who were in support of it. YWL's president, Sage Collis, shares, "I am so proud of the club for organizing this protest and I was especially happy to see so many of our state representatives in attendance."
While the politics subgroup of YWL originated the idea of a protest, it became a full group effort to be put into motion. Freshman, Lucia Belliveau, speaks on this protest as it was one of her first YWL movements to be involved in, "I love standing up for what I believe in in a public setting. It felt very powerful!"
Emily Rubin, the other president of YWL elaborates, "We wanted to make a statement before the upcoming election, and we certainly did. I'm extremely proud of everyone in this club."