Information and Interview Regarding Ukraine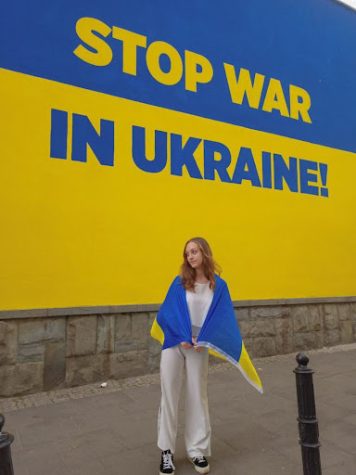 The Russia-Ukraine conflict started in 2013, and it's been about 7 months since Russia invaded. It's hard to say when the fighting will come to an end. As students on the coast of the United States, we are privileged with not having to worry about bomb threats or losing our loved ones to war. This can make the crisis feel distant and unrelatable. However, this year, we were granted the opportunity to welcome a Ukrainian exchange student into our school. Anhelina Onykiichuk is a 16 year old student from Ukraine who spends a lot of time in the capital, Kyiv. We had the pleasure to be able to interview her this past week, and she has agreed to let us share her answers to help us better understand the reality of the conflict overseas. 
Q- How is living in Ukraine different from living in the US?
A- "There is really no big difference in living. Maine is really similar to Ukraine in climate, food, and animals. But there is a big difference in the education system and other little things."
Q- What surprised you about the US when you first got here? 
A- "I was surprised that there are a lot of American flags. They are everywhere, even in supermarkets or shopping malls. So I can say that Americans definitely like their country and it's really important for them. I hope that when I come back to Ukraine, we'll have even more flags."
Q- What do you miss most about being away from home?
A- "I spent a lot of time traveling around Ukraine and visiting different historical places. So, I am really close to my country and I miss every corner of Ukraine. But most of all, I miss my family, friends and my pets. Also I miss the language, my favorite places and the capital of Ukraine because I've been spending a lot of time there."
Q- What's something about the war that you feel people living in the states don't understand?
A- "That one morning has changed our lives. Now, my country is suffering from Russia and every day they kill hundreds of people. I can't realize that it's happening to me. I believe that one day I will wake up and understand that it was just a dream. All people are alive and our cities are that beautiful that they were before. All people dream about it and you can't understand how we feel because of it. You also can't understand that everyone has had really big plans for the future and now the youth don't know what they are going to do, where they will live tomorrow and what they will face next week. A lot of my friends, who are only 18, my father and other relatives now are protecting Ukraine and I don't know when I will meet them. It's really scary. I hope that you will never feel it."
Q- How can they support Ukrainian people living in the US? 
A- "There are a lot of things that people can do. For example, to organize something that can help to make them feel better. It is really hard to forget those events that we had and what we saw. They will remain in our memory forever but people can do something to help them and to convince them that they are safe now. Especially to spend more time with children. Because they are our future and they should be strong. It is really hard for them to live in another country because they can't realize what's going on and why they can't live in their houses anymore."
Staying educated an
d broadening your understanding of the conflict is one of the best ways you can help. @ukraine.ua @ukraine and President @zelenskiy_official are all great Instagram profiles that Anhelina recommends for keeping informed. Participate in local peace protests! If you can donate, some wonderful organizations include the GlobalGiving Ukraine Crisis Relief Fund, the Ukrainian Red Cross, CARE, and UNICEF, which directly helps children and teens impacted by the conflict.