York Golf is Headed to States!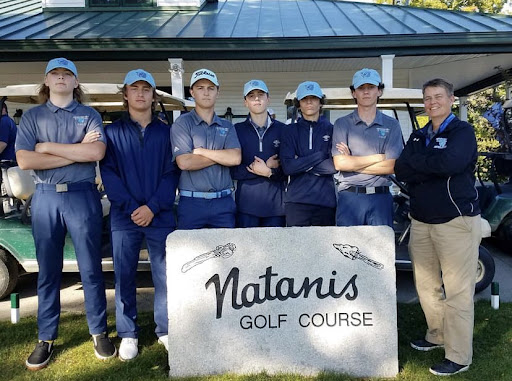 This Indigenous People's day weekend, the York Golf Team is heading up to Natanis Golf Course in Vassalboro, Maine, for the Maine state tournament. The varsity lineup has mainly consisted of senior captains Tyler Conant, Russell Henson, and Jack Jellison. Along with the sophomore pair of Ryan Cummins, T.J. Reagan, and the lone junior Ryan Ridley.
While the team's regular season record wasn't very encouraging, they still managed to finish 2nd in qualifiers amongst the 11 other teams. "I think we have a great chance at winning it all this year," captain Tyler Conant explains, "there's a different feeling now that we (Tyler, Russell, and Jack) are all seniors. We need to get it done." 
"With that Covid scare in the middle of the season, we dropped some easy wins in a couple of matches." Russell says, "I think we should be 100% good to go this weekend." 
The team has been practicing every day at Cape Neddick Country Club since the middle of August. Coaches Tina Jovanovich and Jon Jimenez have been giving the players tips and tricks along the way and teaching them the strict rules of golf.
York, along with Yarmouth, and Cape Elizabeth, are the three teams from western Maine that will be participating in the state tournament. There will also be three teams from eastern Maine that will be in the matches as well. York will be looking for their first state championship since 2018 and 2019. "I have a lot of confidence in our team's capabilities to win this Saturday and look forward to having a great time with an outstanding group of Maine golfers." Jellison determined.
The breakout sophomores, Ryan Cummins and T.J. Reagan had this to say about the upcoming tournament. "I'm going to play it safe and hit the shots I should be hitting, not the shots I think I should be hitting." Reagan exclaimed, "We know we have the talent, we have the right team, we just need to keep our heads in the game and execute. We all know we can do it." 
"I'm going to be me out there," Cummins describes, "I'm going to stay calm and pretend like it's just an ordinary match." he goes on, "We need to finish the season strong for the seniors. They've given it their all this year, and we owe it to them to be our best."