Coffee with Cops
Before this past spring break, YHS students were given the opportunity to participate in a "Coffee with Cops" event during PIE time. Students who participated were able to have friendly conversations with officers over coffee and doughnuts.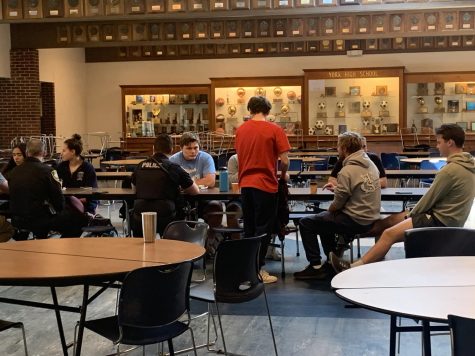 Community interaction is an important part of police work and helps humanize the person behind the badge. Officer Shaun Darrow, who helped organize the event explains, "We felt this event was important to connect students with officers so that both could meet and interact with one another in an informal setting." This informal setting allows for students to ask questions and talk about things that may be unrelated to police work. 
Students who took part in the event had nothing but positive things to say. Stella Fagan, a senior who participated, points out, "I really liked how we were able to just sit and talk with them. I had a great conversation about bike cops and how they're kind of funny but the discussion ended up being really interesting." The feedback from the officers was positive as well. "The officers that came to the event also stated they truly enjoyed getting to meet our students," School Resource Officer Darrow explains.
Hopefully in the future there will be more opportunities for students to participate in this event. "We are hoping to host this event again near the end of this school year, and we hope when it is offered even more students will sign up to participate," Darrow says.