Four Wildcats take on the New England Indoor Track Meet
At the Indoor State Track Meet on February 21st, four of York's athletes qualified for and participated in the New England Meet on March 5th. All York competitors performed very well in the stiff competition with other athletes from Maine to Rhode Island and two of them returned with medals around their necks!
At the State Meet, seniors Lexi Brent and Charlotte Williamson placed 1st and 3rd, respectively, in the 55-meter hurdles, making them eligible to compete in the New England Meet. Junior Matt Charpentier and Sophomore Cary Drake both won their events at the State Meet (Matt in shot put and Cary in the 1 mile and 2 mile), also qualifying them for the March 5th meet in Boston. 
The senior hurdle duo of Lexi Brent and Charlotte Williamson was a force to be reckoned with all season long. Lexi was very excited to have Charlotte and Cary there with her at the meet this year. "In the past, I've been one of the only female athletes to go so it was awesome to compete alongside Charlotte and Cary!" she said. "It was really special for Charlotte and me because we've been running together since we were in 7th grade and that was our last indoor meet." 
Lexi placed an impressive 9th overall, but unfortunately didn't run her best time in the preliminary round which did not allow her to advance to the finals. "I was .01 seconds off from making the final. If I had run what I ran in the states meet I would have made it to the final so it was a little disappointing but it was overall a great experience," she said.
Charlotte Williamson went into the meet knowing that the competition would be a bit daunting but was still ready to race. "My goal for New England was honestly just to have fun. It was very intimidating to see the best track athletes in New England compete but was still a really great experience," she said. Charlotte placed 20th despite the stiff competition! "I didn't run my best time because I was so nervous, but it didn't matter to me. I just had a lot of fun watching my teammates and the rest of the athletes compete," she said.
Lexi and Charlotte are eager for spring track, their final athletic season at the high school. "Looking forward to a great final outdoor season with the team. I know we can go after that state title!" Lexi said. Charlotte pointed out that the girls' 2022 indoor track season with a 2nd place finish at the State Meet was "awesome but did not end the way we wanted it to." Like Lexi, she's excited to have another shot at the state championship in the spring.
Matt Charpentier went into the meet after just having set the Class B state record in shot put. But even a confidence booster like that has its limits at a big meet like this one! "This was my first New England track meet, so I was incredibly nervous. The number one, two, and six seeded throwers in the entire country were at New Englands, so I knew the competition was incredibly stiff," Matt said. 
"Since I was super nervous, I fouled my first two out of three throws. I rarely foul in competitions, so I was very concerned that I wasn't going to make it to finals." Despite the setback, Matt had a solid last throw in the preliminary round of just under 55 feet to secure his spot in the finals. 
Once he had made it to the finals, Matt said that he felt much more relaxed and confident. "I knew I had settled down enough to finish strong. In the finals, my second to last throw was 56'3″ which got me sixth place and onto the podium."
"I am incredibly proud of myself to place in New Englands amongst a crowd of very talented throwers. I feel like I represented Maine well since I was the only athlete from the state to place in shot put, and I hope I made York proud too," Matt said. He certainly did make York proud, as he is the first member of the York boys indoor track team in history to place at this meet!
Matt is already thinking ahead about the spring season which starts in late March. "My goal is to hit 60 feet in shot put and set a new outdoor record for Class B," he said. "I was second in Class B for shot put last spring, so I hope to be the champion this spring."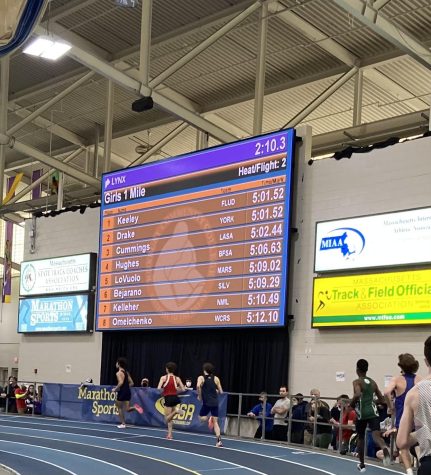 Sophomore Cary Drake went into the mile seeded 11th and made it a very exciting race indeed! She went out very strong and found herself at the front of the pack for almost the entire race. But, within the last 55 meters, the #1 seeded runner in that race, Anna Keeley of Fairfield, CT came up from behind. It was the kind of race that quite literally puts you on the edge of your seat! The two runners battled it out right up to the finish line, crossing it at the exact same time to the human eye. It took longer to get the true results than it did for Cary to run the race!
The computer timing system determined that Cary crossed the line at 5:01.515 and Anna at 5:01.512 – only 3 thousandths of a second ahead of Cary. Although she just missed the title of New England Champion, this is a great accomplishment for Cary and any high school distance runner. She improved her own personal time by over 10 seconds and is very close to breaking the 5-minute barrier.
"I would say that my next steps in my mind would be to work towards running a sub 5 mile," Cary said. "I think that would be a really cool accomplishment and seeing how close I was able to come to that at the New England meet made me realize that it was even a possibility." 
Cary also competed in the 2 mile, placing an impressive 17th in all of New England.
Not only do these four athletes find success in track, but they find pure joy in the sport and their individual events as well. And isn't that what athletics is really all about? "One thing that I love about running is the time that I get to spend with my friends. On a good run you can forget that you are running and just talk with your friends for 30+ minutes!" Cary pointed out. "Hutch runs an amazing track program. We really are like a big family," Matt said.