How We Can Help Students' Mental Health: Wellness Week at YHS
In the fourth week of March 2022, students and faculty members here at York High School engaged in a new approach to helping mental health within the building: Wellness Week. This interactive adaptive schedule includes beneficial activities like a quiet space to decompress or work, coloring, listening to music, entertaining games, movies, gardening, light exercise, and various conversation topics. 
Many students report enjoying this time to de-stress, relax, have fun with their friends and peers, and enjoy a more casual school environment, where they aren't being pressured to perform in class or other educational activities. Some students gave positive feedback on having time to calm themselves from various stressors they experience throughout the school day. One states, "I think it's a thoughtful idea to give students even if just a second, a minute to have some peace. I think we are so busy we rarely remember to do something even small, that's good for our mind to rest." 
However, other students have different views on Wellness Week. Wellness activities decrease the time students have available to complete their homework assignments within the school day. "Wellness week can be fun but sometimes pointless as we take away time where students can get work done," says another student. 
This can be harmful to students who are highly involved in extracurricular activities like sports, clubs, volunteer work, or jobs. "For many students there is never a night or weekend we have a break and don't have work," says the same student.
Students at York High School also have their own ideas on how the school can continue to improve th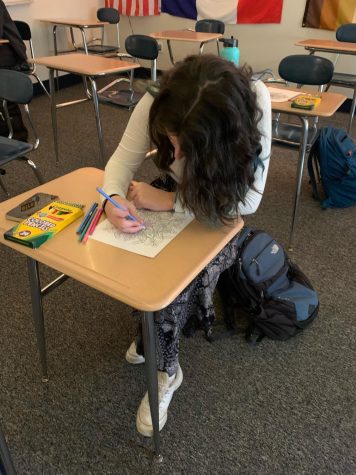 e general wellbeing of their students. When asked what they believe would help student's mental health, a student suggested "normalize students being able to take a break in class, or have a little extra time on an assignment to help their stress levels would change the mental health of many students, more than teachers and administrators realize." Having a break allows for students to recharge and relax, something vital for students' mental wellbeing.
Many students shared that they feel more leniency, like less coursework and flexibledeadlines, would greatly help their mental wellbeing. "[W]e could have no homework nights or no homework weekends which would give students a break for once. That would be greatly appreciated by all," reports a member of the student body.
However, having less homework won't entirely solve mental health problems. "I think that students' mental health would be helped by more time spent outside" a student proposes. Time spent outside during the school day has decreased at YHS after facial coverings became optional earlier this March. No longer are students given time for a 'mask break.' Providing an opportunity for students to take a break outside during the day, is a relatively easy way to make a more lasting change.