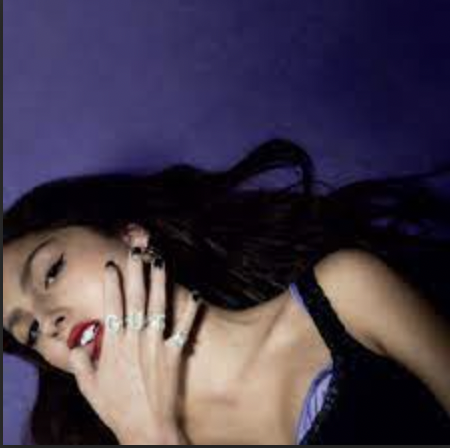 Being a teen girl in this day and age is anything but easy. We are faced with prejudice, unrealistic expectations, the pressure of relationships, and the simple torture of growing up. Girlhood is thorny, but the roses are beautiful. Nothing will ever compare to sitting in front of a mirror getting ready with my best friends, the vanity in front of us a mess, the music blaring, and the chatter and laughter making a beautiful harmony with it all. 
Debuting on September 8, 2023, Olivia Rodrigo's newest album "GUTS" quickly rose to No. 1 on Billboard's list in many countries. Every song on the album was in the Top 40 of the Billboard Hot 100 upon its release. It's not hard to see why – along with her amazing vocals and melodies, Rodrigo does a perfect job with describing both the thorns and the roses of what it means to be a girl in her sophomore album. There are three songs in particular that stand out as depictions of girlhood. 
Opening with sweet melodies and vocals and then transitioning into the raging chorus, the opening track "All American B***h" is perhaps the best representation of repressed feminine anger since "The Man" by Taylor Swift debuted in 2019 (if you know, you know). Every lyric is a relatable one for girls everywhere. The verses are light and airy describing the image of "perfection" girls are compared to everyday – being "light as a feather and as stiff as a board", having "class and integrity", and being "the eternal optimist" who is "grateful all the time." Rodrigo serenades us with these lyrics, but all women and girls are familiar with the sound of suppressed anger she puts behind them. This anger is no longer suppressed when it gets to the chorus – she describes a "perfect all-american" girl but it is obvious how much she envies the term and how it is placed on girls and women with her loud vocals and chaotic melody.
The fourth track on this album "lacy" depicts the jealousy many girls feel towards other girls. In this track, Rodirigo talks about how she feels inferior to a girl named Lacy and how it "takes over [her] life." Rodrigo describes Lacy as a perfect girl with "skin like puff-pastry" and being "made of angel dust." Lacy "has the one thing that [Rodrigo] wants" and it makes Rodrigo "loathe" her. All girls are familiar with feelings of jealousy and comparison. Many girls (I know I do) hate that feeling and know that it is unfair to compare yourself to someone when you have no idea how their life really is. Rodrigo explains this perfectly in the last two lines of "lacy" by saying, "I despise my jealous eyes and how hard they fell for you/Yeah I despise my rotten mind and how much it worships you." The melodies and vocals are perfect for conveying the sadness and agony of comparison as well. 
The final song on this list and the second to last song on the album is called "pretty isn't pretty". This song speaks to the unfair standards girls are held to at such a young age and how they are inescapable. Speaking from experience, it's impossible to fit the ever changing beauty standards put on girls and women "cause there's always something missing/There's always something in the mirror that I think looks wrong." Rodrigo describes how you can try everything to make yourself look and feel better but in the end "you'd always feel so insecure." I and many others have continually tried to ignore these completely unrealistic standards but as Rodrigo describes, "It's all around, it's all the time, and I don't know why I even try" "'cause pretty isn't pretty enough anyways." Rodrigo illustrates the toughest part about being a girl in a very comprehensive way. Every single lyric is one almost everyone can relate to. "pretty isn't pretty" is the song that spoke most to me on this album – I hope you give it a listen. 
Everyone should listen to this album regardless of gender. It ranges from sad songs about love and breakups to upbeat ones about the fun Rodrigo has in her life. You can listen to "GUTS" on any music streaming platform. I hope you love it as much as I do.