A Visit to the Nubble
York High School junior, Olivia Coite, recently paid a visit to York's very own Nubble Lighthouse for her broadcast studio class. She was accompanied by Matt Rosenberg, broadcast studios teacher, to assist in the production of the TV show Weekends with Yankee. It is available to watch on Amazon. Coite got the opportunity to work with a real film crew and put the skills she has been learning in class to use. The experience is a memorable one for her, and she and Rosenberg had some thoughts to share about their day on set.
Along with filming at The Nubble, Weekends with Yankee first took a stop at local breakfast and lunch restaurant, Norma's. Rosenberg shared the film crew's itinerary for the day. After having breakfast at Norma's, the crew headed over to the lighthouse to interview Rosenberg (The Nubble Lighthouse Keeper). Once his interview was complete, Mairead Nesbitt, a violinist who is part of the group Celtic Woman, played in front of the lighthouse on the rocks. Everything filmed will be a part of the episode, giving an insight into life in York, Maine. When asked why the opportunity to help film with Rosenberg piqued her interest, Coite said, "The role I had on set is very similar to what I hope to do for my future career. It was an amazing experience getting to work with a professional film crew, and the fact that it was on and inside the Nubble made it even cooler." Coite also noticed that throughout the day and observing filming, she picked up on things she had been learning about in broadcast studio. She noticed key terms that she learned in class being utilized in real filming such as "NATS" meaning natural light, and she was taught to capture shots at wide, medium, and short angle to ensure variation in footage. Rosenberg agreed with Coite's take that she was seeing things she was learning in class. He remarked, " It was a great way for Olivia to get some practical experience doing things she's learned about in the classroom.  The crew put her to work and took time to explain what they were doing in an instructive way." The crew provided an environment for Coite to practice what she knew from class, and ask questions about what she didn't. The preparation done in class prepared her for this, and what she learned from the experience will help her as she moves forward in the course.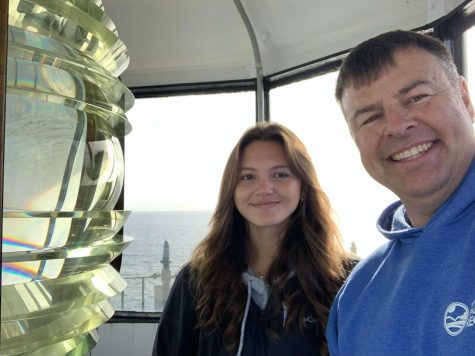 Both Rosenberg and Coite felt that this was a valuable experience. They shared what made it most memorable for them, and lasting impacts they took away from it. Coite was fascinated by the entire process, she shared how it was interesting that, "what was planned out before filming was planned to what they thought they'd need, and what needed to be adjusted in the moment was able to be adjusted accordingly. The film crew had such amazing chemistry, and it was really interesting to see how everyone was able to play their specific roles." Coite was impressed by the whole process and it gave her insight on what she may be interested in for the future. Rosenberg's first thought was how happy he was to have been able to take Coite along with him. He raved, "Olivia was great. She represented YHS well and was helpful on the project." While he was excited to share this experience with her and help her learn, he noted that these kinds of things are learning experiences for him, too. Rosenberg taught himself video production through research so he always welcomes the chance to learn new things to bring back to his students. 
This opportunity to film with a real television crew is a memorable experience for Coite and Rosenberg. It strengthened both of their knowledge of film, and can now be implemented into making their skills in the class stronger.