World Language Honors Society Induction Ceremony
Learning a second language allows communication across cultures and an understanding of the diversity that defines our world. At York High School, the available languages are German, Spanish, and French. Not only do students learn the language, they learn about the culture: music, foods, traditions, etc. On Tuesday, November 15, The World Language Honor Society inducted juniors into the society that have maintained at least a 93% average in their chosen language.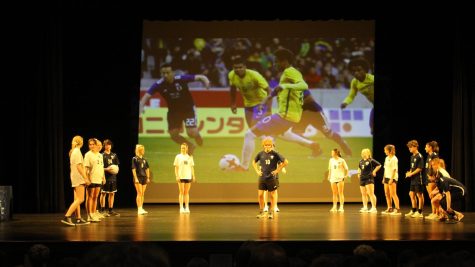 The engaging induction ceremony began with performances from returning Senior World Language Honor Society members. French seniors started the show with an upbeat performance of the song "Nun Major." Their synchronized dance moves were unique and impressive. Gracie Donnell, a senior in the French Honor Society, "felt good" about the performance. Next, the German seniors walked on stage wearing aprons designed to look like German outfits. They then danced to a catchy German song called "Rock Mi." The final performance was the Spanish seniors, who danced to "Waka Waka" by Shakira in soccer uniforms. Max Convery, a varsity soccer player, started the dance with soccer juggling. All of the dances were spectacular and well-practiced. 
The language staff then celebrated the incoming members by having them stand around the auditorium with fake candles. Each language group read the pledge of the Honor Society for their target language. This ceremony was one students will never forget. 
Congratulations to all of the new members of the World Language Honor Society!